Another Capitol police officer has committed suicide, bringing the toll to four deaths from the 3800-member force. Kyle DeFreytag, who died on July 10, followed Officer Gunther Hashida, who was found dead in his home the week before. Officers Howard Liebengood and Jeffrey Smith took their lives in January.
All four of these men had one thing in common: they took part in responding to the Capitol riots on January 6. In fact, a rioter had hit Smith in the head with a pole, causing him constant pain, according to his widow. He shot himself the day before he was to return to work.
Needless to say, blame and conspiracies are flying from both sides of the political divide.
Tuesday morning's edition of CNN's New Day interviewed former DC police chief Charles Ramsey, when Anchor Brianna Keilar asked this leading question:
"They want to know if Congress is taking seriously what happened to them on January 6th. Does that contribute to the trauma, the fact that some lawmakers are whitewashing the events?"
"Lawmakers whitewashing the events" — Keilar means Republican lawmakers, of course.
Ramsey answered with an emphatic yes.
"Sure it does, and it's not just for the Capitol Police, although, you know, the Capitol Police and Metropolitan Police were there in the literal battle that was taking place there, but for police officers across the country. '

"When you hear our elected officials, people that you should really look up to start to try to spin a story of something as serious as what took place on January 6th and try to make it into something that never happened, it was just like a regular tourist event. . . "
Liberal website Mediate spun Ramsey's response into an article with this title: Former DC Police Chief Directly Connects Insurrection-Denying Republicans With Capitol Police Suicides. Well, of course. Now they just don't blame Trump. They blame Republicans, too.
However, at Twitter, Dean Obeidallah didn't just accuse Trump. He also pointed his finger at the reliable boogeyman, Fox News.
Two more Capitol police officers who defended our Capitol on Jan 6 from trump's terrorists have committed suicide. How much did the fact that trump and Fox News are defending the terrorists like Ashli Babbitt contributed to their suicides?

— (((DeanObeidallah))) (@DeanObeidallah) August 3, 2021
But people on the political right have their own ideas about the cause of these suicides as well. So let's just say some are a little more conspiratorial.
For example, one woman wondered if these officers were set to testify before the Senate committee.
Respectfully, these Capitol police suicides are suspicious. Were they witnesses preparing to testify before the committee?

— Throw Up & Theology (@revlaurelj) August 3, 2021
Combat photographer Michael Yon, on the other hand, blamed poor training and leadership of the Capitol police:
"Capitol police should be taken off the line. Angry outbursts. Crying rivers. Four suicides. This outfit is weak and poorly led. The entire must be taken off duty. When you see units like this in combat, watch out. Bad shit coming."
The day after the riots, a staff editorial at the Washington Post called the police the Keystone Cops.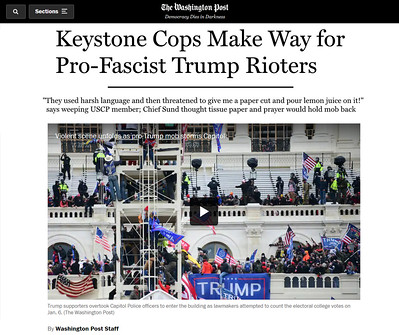 Tim Evanson/flickr/CC BY-SA 2.0.
Meanwhile, this woman wondered about the effects of . . . bear spray. Yes, really. Bear spray.
They'd better look further into the effects of BEAR SPRAY upon the human brain. There have been far too many deaths of DC Capitol Police who were hit with this weapon sprayed into their faces & eyes & absorbed into their brains. Sicknick's death from strokes & eventual suicides.

— Barbara Poeta (@PoetaBarbara) August 3, 2021
Now I don't cotton to conspiracy theories, and I'm not a progressive out to blame Trump and the GOP for All The Things. Neither am I a police officer, nor has anyone in my family served as a cop.
However, I read that police suicides have been up. In Chicago, for example, the police suicide rate is 60% higher than the national average for LEOs. One former member of the the CPD said it was the dead kids who got to her most, especially a little boy who was thrown from a window because he wouldn't steal candy. And that happened 30 years ago:
"The kids that you see here, they stay with you the most. Everyone says that you, you can't describe the horror and the nightmares and the feeling of not being as useful as you can be knowing that it's out of your hands."
So what had those four Capitol police officers seen over their careers? Did the Capitol riots finally push them over the edge? Or, as Yon surmised, maybe they didn't get adequate training. Or perhaps the support they needed on January 6.
And then there's the effects of Covid and lockdowns and anti-police sentiment, including in Mayor Muriel Bowser's Washington, DC. Perhaps all these things added up for these four officers.
However, four officers of a 3800-member force committing suicide does raise lots of questions. Unfortunately, the media and the public are so polarized that I wonder if we'll ever know the true reasons for these tragedies.
Featured image: Elvert Barnes/flickr/cropped/CC BY-SA 2.0.
The post Fourth Capitol Police Officer Suicide Raises Questions appeared first on Victory Girls Blog.