Move over, Larry Elder, there's another black conservative who wants to replace an imperious governor. This time it's former Detroit police chief James Craig, and his focus is on Michigan Gov. Gretchen Whitmer, she of the tyrannical lockdowns.
And, just as Elder became the target of an egg-slinging white woman in a gorilla mask, Craig also faced angry feral children who tried to silence him.
Launching his candidacy at Detroit's Belle Island, the former cop wasn't able to make much of a formal announcement. Instead, all Craig was able to do was to shout "I've got one thing to say: I'm running for governor!" His supporters escorted him to a waiting black SUV, and his spokesman promised that he'd be back. Meanwhile, the protestors — many from the group "Detroit Will Breathe" — flipped him the finger and chanted "Black Lives Matter," and "No Justice, no Peace, James Craig is still the police." That was in addition to the ever-popular "hey hey, ho ho, James Craig has got to go."
Original, aren't they?
So what is their problem with Craig? After all, he's a black man, and race rules politics these days, right?
Well, only if you're the correct sort of minority. If you're a Republican black, you need to get back. Just ask Larry Elder after a Los Angeles Times columnist called him the "black face of white supremacy."
James Craig, however, has two big strikes against him, the first being the Republican party. The second is the fact that he's a former police chief who refused to allow the Black Lives Matter protests of 2020 to engulf Detroit. As a result, Detroit stayed did indeed remain "mostly peaceful" throughout that summer.
But Craig's strong hand at the helm didn't set well with Detroit Will Breathe, who called for James Craig to be fired as police chief. His officers used "unjustified force," they maintained. The group did wangle a temporary restraining order from a federal judge in September, 2020, barring police from using certain tactics for 14 days — like batons, shields, and chemical sprays — on "peaceful protestors."
"Peaceful protestors." Yeah, "peaceful," I'm sure.
I suppose Detroit Will Breathe would breathe easier (see what I did there?) if they resided in Chicago, where police now need permission to chase a suspect on foot. And where homicides are on pace to surpass last year's staggering body count.
So they despise Craig, even though he kept Detroit from burning while other cities did just that.
Does James Craig have much of a chance to replace current Gov. Gretchen Whitmer? You remember her — Michigan's tyrannical she-wolf who slammed her state with heavy-handed and often nonsensical Covid restrictions.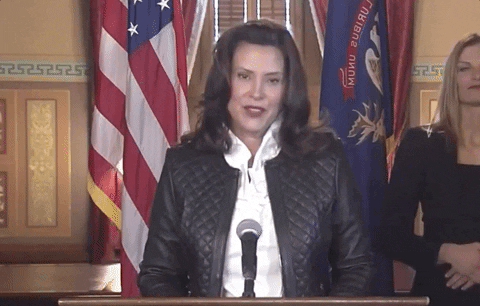 Meanwhile, James Craig also opposes vaccine mandates, making him the Anti-Whitmer candidate:
 "Making mandates for vaccines? What are we becoming? Socialist? Communist?"
So can Craig become Michigan's first black governor? It's a long shot, and, like Chicago with Illinois, Detroit holds the key to victory for any candidate in Michigan. But if the feral children throwing their tantrums at James Craig's gubernatorial announcement tell you anything, it's that they're afraid of him.
How bitterly ironic it would be if the voters of Detroit — the city that James Craig kept from carnage in 2020 — rejected him. But unfortunately, it happens much too often that urban voters look more to the D after a candidate's name than how a candidate with a different path just might improve their lives.
Featured image: Steve Shook/flickr/altered/CC BY 2.0. 
The post Black Cop James Craig Wants to be Michigan Governor appeared first on Victory Girls Blog.